MINELAB EQUINOX 800 METAL DETECTOR

Representing our most significant coin & treasure introduction since the launch of the CTX 3030 in 2012, Minelab is pleased to announce the pending release of our new EQUINOX Series Metal Detectors.
The EQUINOX Series is the all-terrain multi-purpose detector that obsoletes all single frequency VLF detectors. Equally adaptable for all target types and ground conditions… just select your detecting location and go!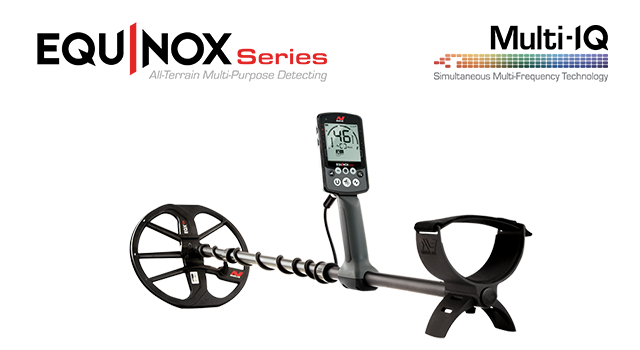 The EQUINOX Series has been designed for the serious coin & treasure enthusiast looking to upgrade to a high performance detector, without the high cost. It's also suitable for the new detectorist, having several pre-set modes for different detecting locations. The EQUINOX Series features Minelab's STATE-OF-THE ART Multi-IQ simultaneous multi-frequency technology and combines fast recovery speed with low-latency wireless audio in a lightweight waterproof platform.


3 Detect Modes (Park, Field, Beach)
4 Frequency Options (5kHz, 10kHz, 15kHz, Multi)
Wired Headphones Supplied


4 Detect Modes (Park, Field, Beach, Gold)
6 Frequency Options (5kHz, 10kHz, 15kHz, 20kHz, 40kHz, Multi)
Bluetooth Headphones and WM 08 Wireless Module Supplied
"EQUINOX, with Multi-IQ, has the potential to obsolete all the traditional VLF detectors that enthusiasts have been using for decades." –Minelab Electronics Pty Ltd.